Road to Goodwood
The quintessential automotive event has been held since 1993 at the estate of the Earl of March: a four-day gathering of supercars, concept cars, Formula 1 cars, historic cars, new models and top-class pilots that attract fans from all over the world.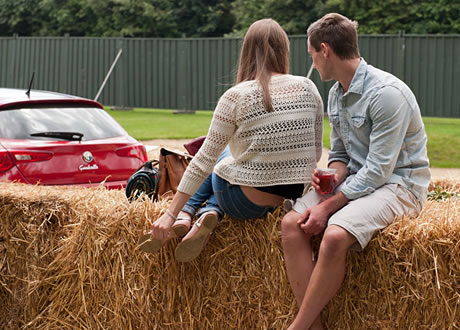 Any car lover dreams of breathing the air of the Goodwood Festival Of Speed at least once in his lifetime.
This is a unique opportunity to look closely at the exhibited cars, to hear the engine roars of racing cars, to enjoy unique models and to live an experience that is more than a motor show, more than a motor race.
Alfa Romeo will participate in the 2012 edition with 5 historic cars, 2 cars from its current range, one supercar and a special anniversary, the 50th anniversary of the Giulia, that will be celebrated at Balocco one week before the start of the festival.
And Balocco will also be the departure point for a Giulietta Quadrifoglio Verde that will cross 7 different countries, stopping over in some of the most charming and important European towns, meeting Alfa Clubs and Alfa fans speaking different languages, to eventually arrive triumphantly at Goodwood, on the first day of the Festival Of Speed.
The Giulietta tour will be mapped and reported by means of tweets, pictures, videos and interviews, telling the story of a passion that has grown over and beyond the borders of Italy: the Alfa Romeo passion.